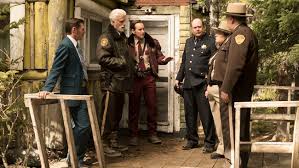 The second season of Fargo is influenced by the Sioux Falls massacre 1979. This anthology of black comedy was premiered in 2015 with Kirsten Dunst, Patrick Wilson, Jean Smart, Ted Danson, and Jesse Plemons. Each Fargo season owns a narrative, fallowing its characters and own settings, the Season 2 has ten episodes in total that last about an hour each.
Although the season premiere was more seen than the second season, it had positive reviews from critics during the whole season. Figures changes with the final episode of the second season though, that peaked almost reaching 2 million viewers, much more viewers than during the first season.
The story is about a young couple living in Midwestern United States in 1979, and their attempt to cover Rye Gerhardt from his hit and run murder and the story of the sheriff and his team investigating this and other three murders connected with Rye and its development.
Fargo is one of the more acclaimed series and was candidate for more than a hundred award, of which won 33. The series consist of three seasons, the series was not announced as cancelled but there is not an immediate date for its return, something that was not taken that well by millions of fans.